Ceiling Clouds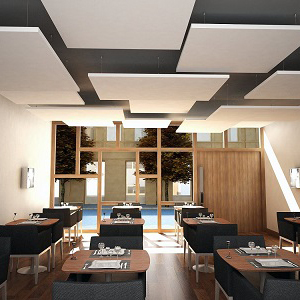 Acoustical Cloud Panels are very effective at reducing echo, and lowering noise levels in any environment. We offer a variety of styles, shapes and colors to blend in or provide additional color in any space. Using suspended cloud panels takes up no wall space, allowing the use of art, glass, shelving and more on the walls.
Acoustical Clouds are very popular in restaurants and bars; many times, we use black clouds that will blend in with the ceiling and are barely noticeable. Other popular projects are industrial looking buildings, with very high ceilings, and offices where echo reduction is needed but walls can't be covered.
We have hundreds of colors, shapes, sizes and materials that can be used for acoustical clouds. When you call, we will quickly evaluate your space by asking a few simple questions and reviewing a couple photos you provide along with dimensions. Using this information, our software tools will allow us to tell you exactly how many panels are needed along with best locations. We then consider your installation questions to provide a complete solution. We are here to make the process very simple, ensure that the products will work, and that you will see measurable improvement in the acoustics immediately.