Sound Isolation Clip Ceiling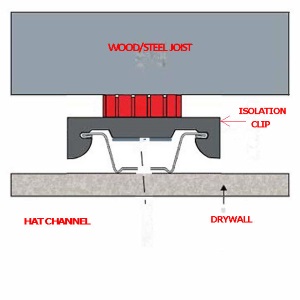 Footstep noise from above cannot be reduced by adding better insulation, or another layer of something over your current ceiling -- even Mass Loaded Vinyl or Green Glue will not work. The same is true for very low-frequency sounds from a home theater or even kids running in a playroom above. To soundproof your ceiling properly we must disconnect the ceiling from the floor joist, breaking the path for vibration travel.
Sound Isolation Clips are a very simple, cost-effective solution for the most difficult ceiling soundproofing challenges. The clips are screwed to the bottom of the floor joist; a simple metal channel snaps into the clip; and a new drywall ceiling is installed by screwing to the channels, not the floor joist. When you call with some measurements, we will be able to provide pricing for everything you need quickly, then deliver the products right to the job in a couple days. The entire process can be completed in a week or less!
We have a variety of sound isolation clips to fit any job. Some include brackets, so the height can be adjusted to avoid pipes or wires, and to make leveling simple when needed. We can plan for anything that will be hanging from the ceiling such as a chandelier, AC unit, or TV projector. Let's talk about your specific project, make sure we have covered everything, and you can get the job done, the right way.
Complete the form on right or call us at 704-504-1127 to discuss your project and we will provide a free consultation, and products that work, every time.
Ceiling Soundproofing Solutions