Cort's Drum Studio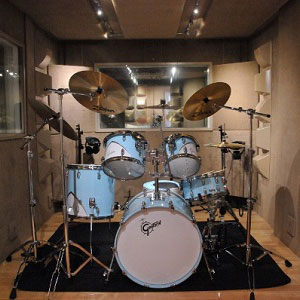 Cort is a drummer, but for years he had been playing on electronic drums and missed the raw sound of an acoustic drum kit. He was reluctant to deal with the challenge acoustic drum noise brings, which would disrupt the peace and quiet in his home and disturb neighbors. Cort contacted SIC when he was about to start every drummer's dream: Building a custom Drum Studio from the ground up!
Cort wasn't renovating a spare room, converting a basement, he was building a 2-story addition to his home. The srudio would be on the second floor with only one shared wall with the existing house. Cort the freedom to build the drum room to suit his particular goals and needs. Having no experience with studio soundproofing Cort contacted Sound Isolation Company for help. Conversations with Jody Cook brought Cort's knowledge of studio noise control to a new level. Although Cort didn't pick up a hammer during construction, he was very involved with the planning of the project, and wanted to make certain that the architect prepared accurate plans for the studio. Working closely with Jody, Cort was provided a complete understanding of the soundproofing systems that were required. Jody even provided the project architect construction details for the walls, floors and ceiling of the Drum Studio. Thanks to Jody, detailed construction plans, and a reliable general contractor, Cort felt completely involved during every step of the construction process. Finally, Cort ordered all the soundproofing products he needed from Sound Isolation Company.
The addition would need to be designed to prevent noise leaks to the rest of the house and interfering with his neighbor's peace and quiet. Cort's drum studio required soundproofing systems for the walls, floor, ceiling and the windows. The walls and ceilings would include sound isolation clips and Green Glue Damping Compound for maximum STC performance, using clips would save Cort valuable space compared to building double-wall construction. Green Glue Noiseproofing Compound and Sound Isolation Clips on the interior. Using Green Glue damping compound combined with Sound Isolation Clips the studio walls and ceiling are mechanically isolated and damped to provide the highest possible low frequency soundproofing (drums produce remarkable low frequency vibration and volume).
Jody utilized Sound Isolation Company's Privacy Ultimate Floated Floor System in the design. Privacy Ultimate Floated Floor System includes a 3/8" thick resilient acoustical mat with two layers of plywood on top to create a completely floated subfloor. Privacy Ultimate Floated Floor System disconnects the floor from the ceiling below to maximize low frequency noise blocking.
The last step in the design was Privacy Soundproof Studio Windows. By incorporating PSSW with Cort's exterior windows, the resulting STC performance would be at least STC 60. He would not have to build a cave with no natural light, thanks to Jody's experience with studio design.
Thanks to partnering with Sound Isolation Company, from the original design, to the actual construction and finished drum studio no issues arose during process, which Cort described as "painless." With the provided information from Jody the Architect also experienced no complications. Cort now jams on his drums anytime he wants to. No complaints from his wife or kids, and the neighbors have not complained about noise either.
Below are some examples and datasheets for the products we used on this project.
Studio Soundproofing Products