Soundproofing Floated Subfloors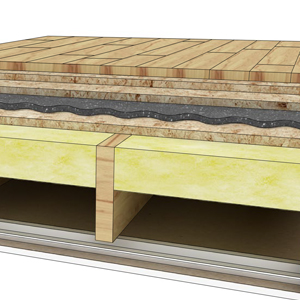 Sound energy travels through all rigid materials and all hard connections as well. To provide the very highest isolation possible, we have designed several systems for floated subfloors. These systems include a resilient, heavy sound isolation material and two layers of plywood on top. The result is a completely disconnected, double plywood floor that you can install any type of floor covering on without special installation methods or other soundproofing products. The double layer of plywood is glued and screwed together, but not attached to the existing subfloor. By floating the plywood layers, there is no vibration path to the structure caused by mechanical connections. In many projects, the walls are framed on top of the floated subfloor.
Our systems have been used in mixed-use developments where retail spaces are located below high-end residential units. Many times, the retail or restaurant spaces have open ceilings which are attractive, but provide no closed airspace to help with soundproofing.
Other applications include home studios and theaters upstairs, commercial spaces over medical offices or other quiet work environments. Every soundproofing project is different; we will ask the right questions to fully understand your current conditions and challenges, provide the expert consulting and design you need, then promptly deliver products that will perform as promised.
Complete the form on right or call us at 888-666-5090 to discuss your project and we will provide a free consultation, and products that work, every time.
Floor Soundproofing Products