Fabric Acoustical Panels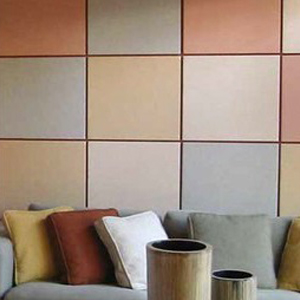 Reducing echo in your space can be an opportunity to provide beautiful colors as well. We manufacture acoustical panels that can be wrapped with 100's of different fabrics, made in special shapes and sizes, and installed in almost any method you want. Our acoustical software tells us how many panels are needed, but that's just the beginning. Together we can design far more than just an acoustical solution. If you can draw it, we can make it!
Not One-Size-Fits-All
You are not average; your acoustical panels shouldn't be either. We make your fabric wrapped panels the right size for your specific project. if your wall is 12' 10" long you don't want three 4-foot panels and one that must be cut down to 10", right? We will provide 4 equal panels at 38 ½" wide- perfect! You provide us with the dimensions of your space, we do the rest. You need a soundproofing consultant to ensure that what you buy will work, the first time; that's us.
Absorbing, Blocking, Reflecting, Tackable, High-Impact
Your room may not need just sound absorbing panels. If we are putting acoustical panels in a school gym we better plan on somebody throwing a basketball at one! If your real concern is noise from the office next door a regular sound absorbing panel will not work, and you must cover the entire wall. Listening rooms, home theaters and studios need panels that absorb and panels that reflect to get the acoustics just right. Let's talk about everything you want, fabric wrapped panels can provide many acoustical and practical benefits.
Installation Methods
We will make the installation as simple as possible. With our planning many customers can easily perform the installation saving a considerable amount of money. We will ask you the right questions about your room to obtain an understanding of the simplest installation method and hardware, before you place the order. We have a variety of attachment systems for any situation, and we will also tell you if a contractor should do the job after discussing the project.
Contact us to start your project, fill out the form to the right or call now 704-504-1127.