Fabric Wrapped Wall Panels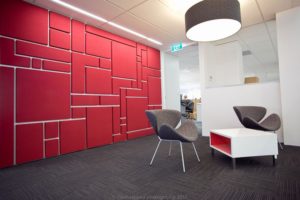 We get many calls for wall soundproofing where our customer doesn't want to alter the existing surfaces. Our challenge is to provide a product that will measurably improve the soundproofing and look nice in the existing space. Fabric Acoustical Panels are a perfect fit! We manufacture sound absorbing and sound blocking acoustical panels to fit your specific project and choose colors that will fit you existing décor or improve it by adding color and shapes.
Acoustical Design
We provide free help with the evaluation and design of your acoustic panel project. You help by answering a few simple questions about the noise you hear, the size of the walls and what they are made of. Pictures are also a great tool for us to discuss the project with you; send us some. Finally, we will ask some questions about room characteristics and the ceiling, so we'll have a clear understanding of your room before starting the solution process.
Custom Fabric Wall Panels to Fit
We don't do one-size-fits-all solutions for soundproofing wall panels. Blocking noise through a wall requires covering the entire surface. You can think of sound like water in a bucket. If we have holes in the bucket, all the water will leak out. We don't have standard sizes that will require you to cut panels in the field. With the dimensions you provide, we make the panels uniform in size so the finished project looks very professional with no gaps.
Custom Construction
Acoustic wall panels can be designed to provide sound-absorbing, sound-reflecting or soundproofing. Every soundproofing project is a little different. You may be hearing noise from a co-worker, or a noisy manufacturing area. These different noise levels require slightly different acoustical panels. We customize our fabric panel to the specs you need. A one size-fits-all solution is not effective. When extra soundproofing is needed, we add a heavy layer to the panel; if our standard panel will work fine we leave it. We can also provide panels that have a dual function. In gyms we add a high-impact face; we can add a tackable surface, so you can use the panel with push-pins.
Installation Methods
We will make the installation as simple as possible. We use several simple installation systems. Some installations are done with simple pins and some glue, others with sliding clips so you can easily remove panels when needed. We also use hook-and-loop fasteners in some cases.
Datasheet for Fabric Acoustical Panels
Complete the form on right or call us at 704-504-1127 to discuss your project and we will provide a free consultation, and products that work, every time.
Wall Soundproofing Products