Grid Tile Ceilings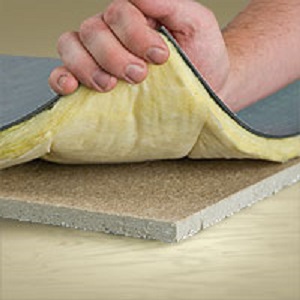 Office spaces, basement renovations, and mixed-use commercial spaces all present challenges that sometimes make a suspended grid ceiling the only choice. Mechanical ducts, plumbing and wiring conduits, uneven joists, and sloped joists are just a few reasons why hiding what's there is the best option. Grid system ceilings are too light to create privacy between spaces; the only traditional options are very expensive ceiling tiles with sheetrock as the backer, or foil backed tiles that are touted as high-performance noise blockers but really aren't even capable of bare-minimum STC ratings.
Privacy Ceiling Blocker Tiles
We have a simple, very effective solution for all suspended grid ceilings, available in pre-cut sizes to match your existing ceiling tiles. Privacy Ceiling Blocker Tiles are designed to fit directly above your current ceiling tiles to greatly improve the soundproofing of your office. Tested to a STC 32, you can expect immediate improvement in the sound blocking of your grid ceiling. You do not have to make any modification to your existing ceiling and you don't have to replace the tiles you already have. This system is simple to install by a maintenance person, or even by yourself. The cost savings of using Privacy Premium Ceiling Blocker Tiles are tremendous when compared with constructing a drywall ceiling, or buying very expensive soundproof ceiling tiles from a builder supply.
Additional Considerations with Grid Ceilings
Light fixtures and air vents in the ceiling are basically a hole for sound to travel through. After we have improved the soundproofing performance of you grid ceiling, we cannot ignore the potential noise leaks created by lights and open-return air vents. Privacy Light and Air Return Covers are available for just this application. Already sized to fit your fixtures, our soundproof light and air return covers are effective and simple to install.

Privacy Fluorescent Light Cover - When dealing with commercial fixtures such as 2×4 fluorescent lighting system, special care needs to be taken to avoid sound leaking through the thin metal light housing. Using our Privacy Light Covers for commercial lights will help reduce the transfer of noise through this very large sound leak.

Privacy Recessed Downlight Cover – In renovation projects, basements and new construction, the conflict between much-wanted recessed lighting and the ability to provide measurable sound control would preclude the use of downlights. Using our Privacy Recessed Downlight Covers will help reduce the transfer of noise, while still keeping the aesthetic look you want to achieve.

Privacy Air Return Covers – Typical grid ceilings have open-air returns that consist only of a grill in the grid. This is a hole in the ceiling and should be sealed with our Privacy Air Return Cover to prevent office-to-office noise.
Complete the form on right or call us at 704-504-1127 to discuss your project and we will provide a free consultation, and products that work, every time.
Ceiling Soundproofing Solutions