Soundproof Luxury Vinyl Floors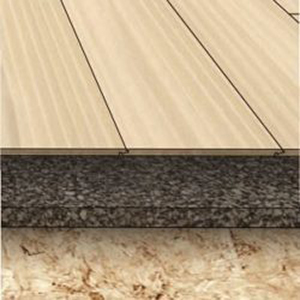 The vinyl flooring industry has developed new wood/tile/stone plank floors that are both beautiful, and virtually maintenance free. Long considered a cheap option, luxury vinyl floors are now a top choice for high-traffic areas, multi-family residences, rental properties and hospitality projects. Luxury Vinyl Plank floors are still hard floors and will easily transmit footstep noise to the spaces below. We have developed reliable products to significantly reduce footstep-noise for resilient floor coverings.
Complete the form on right or call us at 704-504-1127 to discuss your project and we will provide a free consultation, and products that work, every time.
Privacy Resilient Floor Underlayment is a composite product that combines cork and rubber to absorb footstep noise. At only 2.5mm thick there will be no height problems at doorways, or intersections with different finished floors. Privacy Resilient Floor Underlayment is for use on concrete subfloors only; the product is glued down to create a solid surface for your plank floor. The finished floor can be installed floated or glued directly on the underlayment. Foam backed or peel and stick products are not recommended on Privacy Resilient Floor Underlayment.
Privacy Ultimate Underlay is a recycled rubber, roll product that is suitable for soundproofing resilient floors. Privacy Ultimate Underlay provides a cushioned underlayment that breaks the connection between your hard floor and the subfloor below. Vibration (noise) from footsteps is absorbed by the underlayment before it transmits to the rooms below. Privacy Ultimate Underlay is glued to the subfloor, your finished floor can be floated or glued down.
Floor Soundproofing Products